"Access control is central to the management of key business risks". This is one of the key takeaways from IDC, a leading provider of global IT research and advice, in their recent IDC Vendor Spotlight, sponsored by Soterion.
The IDC Vendor Spotlight outlines key challenges associated with SAP access management, the benefits of investing in a quality access control solution, and actions required to drive improvements.
Download the full IDC Vendor Spotlight here or read an excerpt below which details IDC's views on the key business risks that access control solutions can help manage.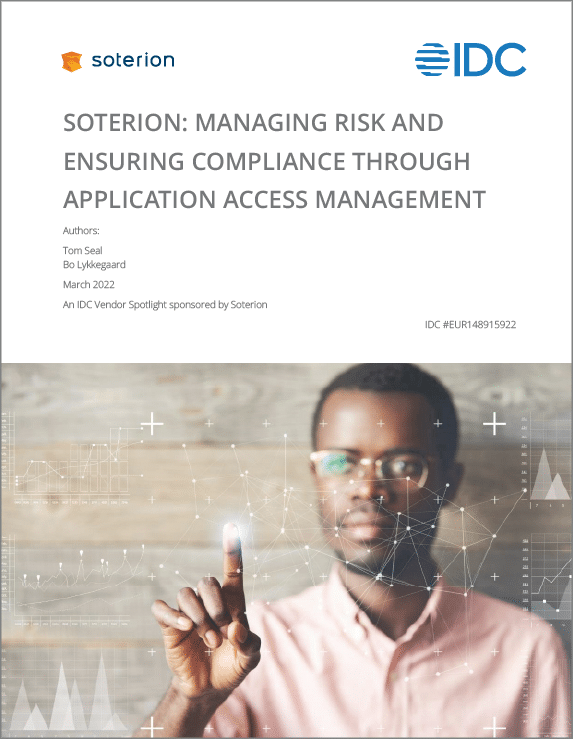 ---
1. Financial Risk
Financial processes must be designed to prevent fraud by those inside the business. Segregation of duties is a key technique to protect against fraud, the principle being that transactions must always require action from two or more staff, making it extremely difficult for an individual to commit fraud and more errors are likely to be picked up.
---
2. Reputational Risk
Organisations must protect their reputation among customers and investors. The failure of risk management processes can have a big impact on the reputation of a business as well as direct financial losses or legal repercussions.
In Europe, a series of corporate scandals and failures have made the public aware of the fact that not all businesses meet the standards required of them, reducing trust in the business in question. This loss of trust can have a material impact on brand value and the share price of listed companies.
---
3. Regulatory Risk
Applying processes that manage risk goes beyond good business practice. All businesses are legally required to comply with regulations determined by the jurisdictions in which they operate. Organisations in certain industries such as financial services and pharmaceuticals must adhere to a specific set of regulations driven by the types of products they develop and sell.
Auditors will check compliance with these regulations. Critically, it is not enough for an organisation to show that no failures occurred; regulators and auditors must see that robust processes are in place to ensure continued compliance.
---
4. Privacy Risk
An example of a set of regulations that apply to all organisations in Europe are those set out in the General Data Protection Regulations (GDPR). All businesses that operate in Europe must treat personal data in line with a set of rules that control the way data is collected and consent for its use, storage, and retention is handled. There are serious penalties for organisations that breach these regulations.
---
5. Access Control
Processes designed to mitigate financial, reputational, and legal risks are the first part of the solution; access control is the second. The effectiveness of business processes is contingent on the correct people actioning each step of the process. Risk management is ultimately in the hands of people who must perform the role defined for them precisely. Individuals with access rights to systems that are too broad may find they are able to circumvent or compromise processes designed to protect the business.
---
Compliance is a Complex and Evolving Challenge
The chief financial officer is the primary owner of risk management, answerable to the board, and holding a personal legal responsibility. In Europe, the regulatory burden has been rising as the European Union in particular seeks to protect consumers and investors and reduce systemic risks in certain industries.
The financial crisis of 2008 in particular triggered a wave of new regulations. CFOs had to respond quickly and received investment to upgrade systems and processes to meet emerging requirements, but in most cases, compliance was achieved by adjusting existing systems to meet the new requirements of regulations such as MIFID, IFRS, and SOX.


---
Is your access control solution keeping up?
It's worth revisiting your access control processes to ensure they're keeping up with changing regulations and best practices. Get in touch with one of Soterion's SAP security consultants to explore how we can help solve your GRC objectives.

Learn more
Soterion is an international leading provider of governance, risk, and compliance solutions for organisations running SAP. Soterion's user-friendly GRC solutions provide in-depth access risk reporting to allow organisations to effectively manage their access risk exposure.
Soterion is passionate about simplifying the governance, risk, and compliance processes, with a focus on translating this complexity into a business-friendly language to enhance better decision making and business accountability. Email [email protected] for more information.
Get in touch with one of our SAP security consultants to explore how we can help solve your GRC objectives.
Source: IDC Vendor Spotlight, Sponsored by Soterion, Soterion: Managing Risk and Ensuring Compliance Through Application Access Management, Doc. #EUR148915922, March 2022