At Soterion we like to talk about effective GRC. What do we mean by effective GRC, and what do we believe is needed for effective GRC?
Many companies make the mistake of thinking that the GRC or access control solution alone is the silver bullet to solve all their SAP security challenges. Because of this, many organisations have an access control solution, but it is not adding much value. These companies have GRC, but it is not effective.
When measuring your organisation's GRC effectiveness, it is important to measure this in relation to the organisation's business objectives.
How secure is your SAP solution?
Are you complying with regulations, in particular the data privacy regulations?
How efficient are the SAP security processes – these include provisioning of access, SAP security support, and the business's compliance tasks such as a User Access Review?
Have the business users taken accountability of access risks?
It is difficult to address these business objectives without a holistic view of GRC. GRC practitioners need to look further than just the GRC solution, rather looking at all the associated components collectively to understand their inter-relationship.
To illustrate this, we have created an infographic that we call The Effective GRC Pyramid -view the image below or download the PDF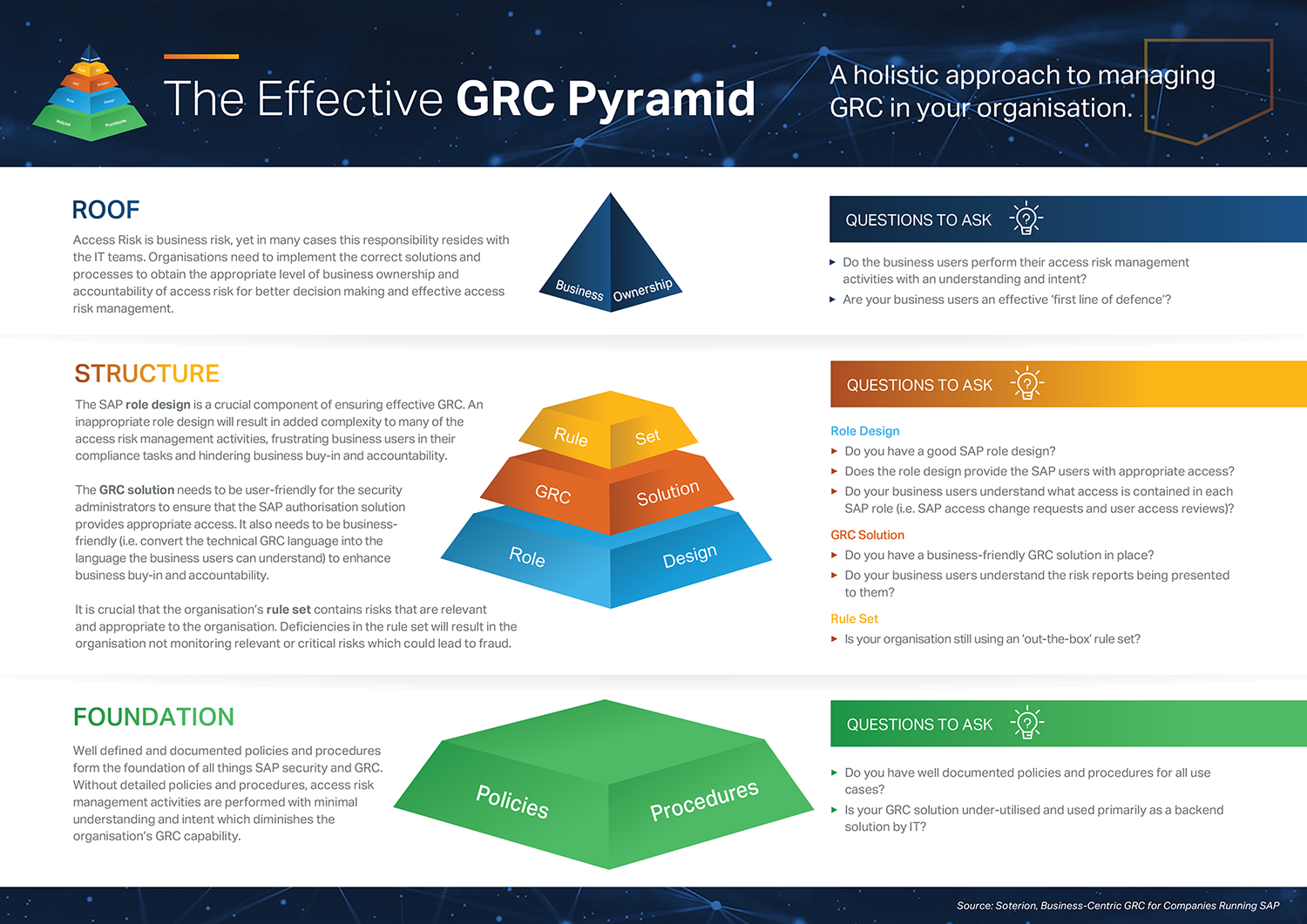 An organisation's entire GRC effectiveness will be measured by how well the business users carry out these functions. Do not underestimate the importance of choosing a GRC solution that addresses your business objectives. If enhancing business accountability of access risk is one of them, ensure that you implement a business-centric GRC solution.
View your GRC holistically and ensure that all the components of The Effective GRC Pyramid are working together effectively.
If you'd like to know more about how to go about managing GRC in your organisation, or for more information on Soterion's products, contact [email protected]